Southeast HVAC News
Central Carolina Technical College Granted HVAC Excellence Accreditation.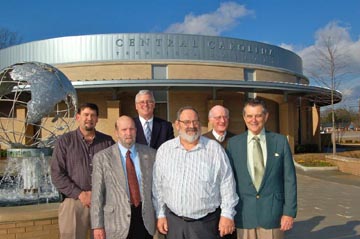 HVAC Excellence is pleased to announce that Central Carolina Technical College in Sumter, South Carolina has been granted accreditation of its Heating, Ventilation, Air Conditioning and Refrigeration (HVACR) program.

Central Carolina Technical College is the first HVACR program in South Carolina to be granted accreditation.

The HVAC industry is one of the fastest growing industries in the United States according to the Labor Bureau of Labor Statistics (BLS). The BLS has stated that 65.6% of the service persons in the HVAC industry in 2020 will be people who were not in the HVAC industry in 2010. These are jobs that will be performed right here on American soil as they cannot be automated or exported.

With great job opportunities in the HVACR industry, how can prospective students identify which HVACR program will put their career on the fast track to success? They do this by looking for a Nationally accredited HVAC program.

Programmatic accreditation is where an independent third party HVAC Excellence reviews a program against set educational and industry standards in: curriculum, faculty, student facilities, placement services, financial aid, advisory committee involvement, training facilities, equipment & safety. HVACR programmatic accreditation validates that a program has the resources to prepare students for jobs in the HVACR industry and verifies the program has the needed resources and administrative support to accomplish their goals.

In seeking accreditation the staff at Central Carolina Technical College had to complete and submit a self study evaluation of their program that demonstrates how they meet each required standard. The self study once completed was sent to HVAC Excellence for their executive team to thoroughly assess for compliance against each standard.
Story continues below ↓
---
advertisement | your ad here
---
HVAC Excellence having approved the self study sent an onsite team to conduct an intense onsite review of the program. Having reviewed all of the documentation from the self study and on site team visitation report, the HVAC Excellence accreditation review committee decided to grant accreditation of the program.

Now that the program has been granted accreditation it can: provide employers with confidence in the quality of the program, assist students in selecting a program, assist students with transfer credits, help the students with advanced placement in the United Association apprenticeship program.

While there are accredited programs coast to coast, Central Carolina Technical College is the first program in South Carolina to be granted accreditation. Having achieved a six year accreditation, the highest attainable. They now stand as a program for others to emulate.

The program at Central Carolina Technical College is led by Mr. Jack Hossink who is a Certified Master HVACR Educator. This is the highest title that HVAC Excellence can confer upon an HVACR educator.

To learn more about the nationally accredited program at Central Carolina Technical College, visit them online at http://www.cctech.edu/



###