Emerson introduces industry's first WirelessHART power meter to improve equipment reliability and enable energy demand and consumption monitoring.
The new meter improves infrastructure manageme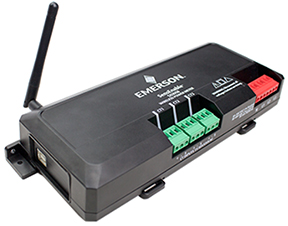 nt with real-time monitoring of voltage, current, power, energy and more.
Emerson has introduced the first WirelessHART Power Meter, making electrical demand and consumption measurement available via a secure and reliable network across numerous markets. In an ongoing effort to help customers face the challenge of meeting more stringent energy standards and improve equipment reliability, Emerson incorporated WirelessHART technology into a revenue-grade wireless power meter to deliver a unique measurement solution that will greatly improve energy efficiency and sustainability. WirelessHART communication technology ensures secure and reliable data transmission.
For more information on the Wireless Power Meter please visit www.Emerson.com/Wireless-Power-Meter
---
NORTEK GLOBAL HVAC INTRODUCES NEW 14 SEER 3-PHASE LIGHT COMMERCIAL ROOFTOP UNIT Model R8GE will meet upcoming 2017 efficiency standards.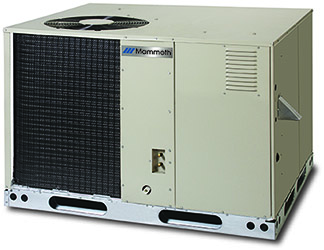 Nortek Global HVAC, a Nortek Company (Nasdaq: NTK) and a leading manufacturer of innovative HVAC systems, has launched a new 3-phase large packaged gas/electric system in 2 to 5 tons for light commercial use. Model R8GE delivers energy-efficient 14 SEER cooling in advance of new federal efficiency standards that will take effect on January 1, 2017.
"After January 1, no manufacturer will be able to produce 13 SEER 3-phase models under 65 MBTUH," explains John Remley, Nortek Global HVAC product manager. "We are well ahead of this standards change with our new 14 SEER R8GE 3-phase model, giving our customers a competitive advantage in the market."
In addition to a higher efficiency level, model R8GE 3-phase includes several benefits for light commercial contractors:
• All-aluminum Micro-Channel evaporator and condenser coil
o Rugged and innovative design for longevity
o Lighter weight for easier hoisting
o Less refrigerant needed for comparable performance
• TXV for precise refrigerant control
• Five-speed ECM blower motor for challenging airflow applications
• Corner protectors for personal safety
• Factory-installed air filter racks and access panels for servicing convenience
• High-pressure switch and factory-installed refrigerant filter drier for added compressor protection

Nortek Global HVAC's new gas/electric packaged system is offered in a wide range of capacity and voltage variations, making it the preferred choice for many retrofit and new project jobs. Model R8GE 3-phase is available in the Mammoth® and Reznor® brands of commercial HVAC equipment.

For more information about innovative Nortek Global HVAC products, contractors and distributors should visit nortekhvac.com.
---
Armstrong introduces the IPS 4000 HVAC controller with sensorless design.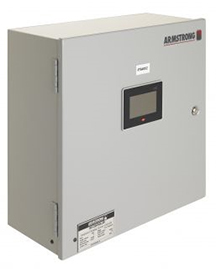 Armstrong Fluid Technology is introducing the IPS 4000 (Integrated Pumping System), a control solution that integrates with HVAC pumping units to optimize energy performance, system handling and installation, which does not rely on remote sensors.
Designed with the "sensor within", the IPS 4000 series offers a comprehensive control solution that does not rely on remote sensors to optimize the control of any variable flow HVAC system. Featuring patented Best-Efficiency staging in a headered configuration, the IPS 4000 operates in either a stand-alone mode or networked through the BMS to maximize the performance profile of up to six pumps in 12 zones.
Key features of the IPS 4000 include:

performance efficiency exceeding ASHRAE 90.1 2010, MEI 2015 compliant and achieving IE3;
easy installation and integration with existing HVAC systems;
field configurable by the user interface;
parallel Sensorless Technology;
cost certainty and lowest installed cost;
enhanced performance data for optimized staging of pumps;
multi-zone control;
control of the by-pass valve in the de-coupler line, ensuring minimum flow rate requirements;
automates variable primary pump stations in response to changing number of chillers/boilers; and
ability to read the flow from pumps, a flow meter or both.
---
NORTEK GLOBAL HVAC LAUNCHES 3-PHASE LIGHT COMMERCIAL AIR CONDITIONER .

New model P8SE is available in the Mammoth and Reznor brands.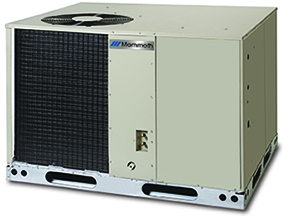 St. Louis, November 12, 2015 — Light commercial contractors have a new three-phase electric/electric packaged cooling solution from Nortek Global HVAC. Model P8SE delivers 14 SEER cooling in capacity ranges from 3 to 5 tons in even tonnages, making it an energy-efficient choice for strip malls, restaurants and retail stores.
John Remley, Nortek Global HVAC product manager, says, "What makes model P8SE unique is its two anti-corrosion coils. Both the condenser and evaporator coils are all-aluminum Micro-Channel, increasing corrosion resistance while reducing overall weight and the amount of R-410A refrigerant needed."
In addition to the high-technology coils, model P8SE includes a five-speed ECM blower for greater range of airflow at higher statics. The new air conditioners also are TXV-controlled for precise refrigerant flow, have high pressures switches to protect the Copeland compressor, and come with factory-installed filter racks with convenient panels for filter change-out.

Model P8SE is available in Mammoth and Reznor brands with convertible air delivery for rooftop or slab applications. The new unit is appropriate for both retrofit and new construction applications.

For more information about this new light commercial air conditioner or other Nortek Global HVAC products, contractors and distributors should visit www.nortekhvac.com.
---
New B-Wheel Backward-Curved Modules Feature ErP 2015 Compliant 3.3-kW EC Motors.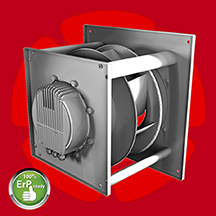 Award-winning Rosenberg B-Wheel backward curved fan modules are now available with ErP 2015 compliant 3.3 kW EC motors. The B-Wheel features a seven-blade design (instead of the standard eight) with a unique wheel geometry that provides for impeller efficiencies up to 78% while reducing noise by up to three dBA.
It also increases airflow compared to standard impellers operating at the same speed. The new B-Wheel modules are perfect for data center cooling applications and other demanding air-movement tasks with low noise and high efficiency requirements. The new modules are available in six sizes from 355-mm to 630-mm.

All Rosenberg fan motors are CE, UL and RoHS approved. Rosenberg EC motors are also ModBus compatible for easily networked system controls.

Rosenberg B-Wheel impellers feature all aluminum construction and robot-assisted welding. They are suitable for hygienic or outdoor applications without additional finishing or surface treatment. Visit Rosenberg for more information.
---
Berner's New Commercial Low Profile 8 Air Curtains Now Offer Heaters and Longer Lengths. Optional electric, steam or hot water heating coils add indoor air comfort and environmental separation for retail, institutional and commercial front doorways.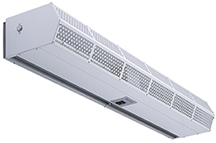 The Made-in-the-USA CLC08 Series is a product line redesign and amalgamation of Berner's former K-Zone, E-Zone Series air curtains and other commercial models in eight-inch-high cabinets. The competitively-priced CLC08 Series features standard options of two-speed air curtains in a 14-inch-deep cabinet to accommodate electric, hot water or steam heating coils and built-in controls. The addition of heat increases customer and employee comfort, making the CLC08 Series perfect for air sealing front doorways in retail, restaurants, institutions and other commercial applications requiring an aesthetic low profile.
For more information on the CLC08 Series and other Berner air curtain products, please visit www.berner.com.
---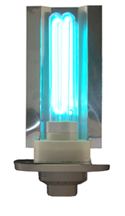 Small but Mighty: Stinger 24V UV-C Light System Ideal for 3-ton-or-smaller Commercial HVAC Units. This 18-Watt, Externally Mounted UV Fixture is Designed to Kill Surface Mold and Bacteria, Restore System Efficiency and Reduce Maintenance on Hard-To-Access Equipment.
The Stinger UV-C fixture from UV Resources is designed to efficiently destroy surface microbes and organic materials that impede HVAC system efficiency, as well as contribute to allergies, poor Indoor Air Quality (IAQ), and airborne-transmitted disease. Because the low voltage unit mounts from the exterior and requires no interior unit access, the Stinger UV-C lamp series is ideal for hard-to-access HVAC equipment up to 5 tons.
For more information, call 877-UV4-HVAC (884-4822); or visit www.UVResources.com.
---
Cambridge Engineering Announces New Ultra High Efficiency Space Heater. Easy to Install Addition to the SA-Series, the SA350, Benefits Commercial & Industrial HVAC Contractors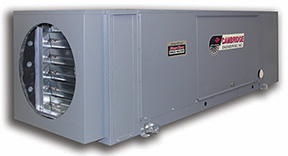 Introduced in 2013, the Cambridge SA-Series uses the same proven technology as the larger ultra high efficiency Cambridge S-Series, but is sized for efficient heating and ventilation of smaller spaces. Randy Niederer, Director of Marketing for Cambridge, noted, "the addition of the SA350 allows for greater end-user flexibility in an 'off-the-shelf' heater for spaces larger than the SA250 serves, but smaller than those served by our S-Series."
The apparent simplicity of the SA-Series heaters hides the fact that they incorporate several patented and proprietary technologies, to provide legendary Cambridge dependability. As with other Cambridge heaters, the stainless steel burners are supported with the longest warranty in the industry (five full years), with all other components warranted for two years.

Cambridge Engineering has produced a 5-minute video explaining the features and benefits of the SA-Series, which is available for viewing here https://www.youtube.com/watch?v=qGukWW0sY8s
---
Belimo New Flow Offering Available on 2" Electronic Pressure Independent Valve (ePIV).

The 2" ePIV offering is expanded to include five new factory set flow models from 80 to 100 GPM. To achieve these new flow settings the specification for operating differential pressure range is 8-50 psid and media temperature range is 39°F to 250°F [4°C to 120°C]. For these models field set maximum flow is adjustable from 30-100 GPM, in 1 GPM increments, with the ZTH US hand held tool or PC Tool.
For more information, contact Belimo at 1-800-543-9038 or visit the website at www.belimo.com or www.piccv.com.
---
WESTINGHOUSE CONDENSING GAS/ELECTRIC PACKAGED UNIT NOW AVAILABLE IN A ROOFTOP VERSION
95% AFUE R8HE released in a downflow configuration.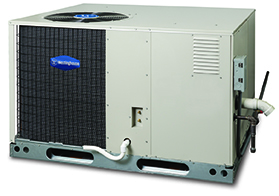 Westinghouse® HVAC has expanded the R8HE gas/electric packaged system model to include a downflow configuration. The R8HE is the first condensing gas/electric packaged unit for residential applications and offers unprecedented heating efficiency – 95% AFUE.

When furnaces operate at such high levels of efficiency, condensate forms. With a gas/electric packaged system there is a fear that the condensate will freeze. The R8HE addresses this problem by piping the condensate into the building (in rooftop applications). This model also offers efficient, 14-SEER cooling capabilities.
Additional features of the R8HE include:
• Micro-Channel Coils: Provide resistance to corrosion.
• Copeland® Scroll Compressor: Provides efficient, quality operation.
• SmartLite® Control Board: Extends the life of the ignitor.
• Corrosion-Resistant Drain Pan and Embossed Bottom Pan: Keep the blower compartment dry.

The quality of the Westinghouse R8HE gas/electric packaged system is backed by an exceptional parts warranty – a 10-Year Limited All-Parts Warranty and Quality Pledge (product registration required). To find out more about this high-quality heating and cooling system, contractors and distributors should visit www.westinghousehvac.com.
---
Berner Adds Longer One-Piece Models to Foodservice K-Zone, HVAC/R E-Zone Air Curtains.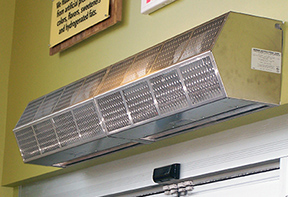 EZN and KZN Series now protect doors up to 10-foot-wide from flying insects and energy losses in foodservice, dock-and-door and HVAC/R markets.

The EZN and KZN Series are now available in nine widths ranging from three to 10 feet, which eliminates the inconvenience and mismatches of combining smaller sizes to create a longer air curtain. Each new length model uses the same renowned, aesthetic E-Zone/K-Zone 8-1/2-inch (w) x 8-inch (d) cabinet design, the industry's smallest profile.
Other benefits of the EZN and KZN Series are:
Single speed operation ensures compliance to NSF Standard, ANSI/NSF-37 certified airflow velocities for resisting flying insect and outdoor air infiltration.

Custom colors in durable power coat finishes.

Same cabinet appearance can be used in variety of doorway widths to promote a uniform style throughout a facility.

Multiple air directional vanes vanes constructed of strong heavy-gauge aluminum assures proper deflection and airflow to the outdoor threshold.

A universal mounting system offers simple installation with flexible choices using a wall mounting plate for horizontal or vertical mounting, or integrated threaded inserts for vertical rod suspension.

Five-year parts warranty from the oldest, most established air curtain manufacturer in the world.

Optional corrosion-resistant stainless steel construction for food processing, coastal or other corrosive environments.
For more information on the EZN, KZN and other Berner air curtain products, please visit www.berner.com, email info@berner.com or call (724)-658-3551.
---
DuctSox's New OvalSox™ Solves Low Clearance Challenges of HVAC Round Fabric or Metal Duct.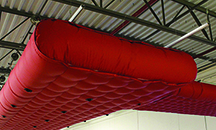 Unprecedented 47 to 93-inch-wide,11 to 22-inches-high oval-shaped fabric duct gains 13 to 27-inches of head room without sacrificing air volume.

OvalSox which ranges from 11 to 22-inches-high and 47 to 93-inches-wide, saves 13 to 27-inches of head room versus round HVAC fabric and metal duct alternatives. There's no air volume or air dispersion lost with OvalSox versus conventional duct that hangs too low and obstructs industrial overhead conveyors or high rising equipment. OvalSox is also ideal for datacenters with high rising security cages or low hung ceilings in offices and other commercial designs.
OvalSox retains an inflated shape even during idle air handling periods with patent-pending polyester ropes and supportive fiberglass rods for structural integrity. Six 3/16-inch-diameter ropes are sewn into the fabric interior at nine to 14-inch increments, which also present an aesthetic pleated effect. Additionally, 3/8-inch-diameter corrosion-proof white fiberglass rods are attached via sewn-in clips atop the fabric surface to accentuate an inflated appearance. OvalSox is ceiling hung with two easily-installed rows of cable or H-track suspension systems, that also help keep an inflated shape with minimal sag.
OvalSox is superior to metal ductwork in that it offers a variety of air dispersion options, such as air porous fabric, linear vents, nozzles and orifices.
For more information on OvalSox or DuctSox's total line of textile air dispersion products and accessories, please visit www.ductsox.com or call 866-DUCTSOX.
---
Viega Introduces New Radiant Control Products.
New radiant controls and valves offer easy installation and operation.

Viega introduces new products for hydronic and HVAC applications that allow for easy installation and system integration. The new control products include: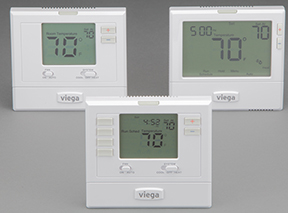 • 0-10V DC Powerhead which provides short response times and self-calibrates every 24 hours. The powerhead features a plug-in connection cable and 360-degree installation position. The compact design, noiseless function, low power consumption and maintenance-free performance are additional benefits.
• 0-10V DC Actuator provides short response times, which results in improved control response for radiant systems.
• Zone Valve that features easy installation with Viega ProPress and PEX Press adapters supplied. The zone valve's thermal electric motor allows for easy wiring in two- and four-wire applications.
• Thermostat with intuitive, menu-driving programming and icons for easy use. The thermostat integrates well with a variety of HVAC equipment and mounts to drywall or junction box with easy color-coded wire connections.
For more information, visit www.viega.us.
---
Buderus Offers Energy-Saving GB142 Condensing Boiler in Four Models.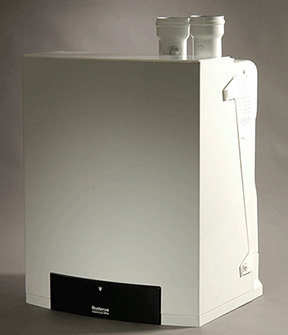 Trusted Buderus quality and high efficiency come together in the GB142 modulating gas condensing boiler. With four models supplying from 84,800 to 214,800 BTU/hr, and cascades of up to 16 units for even higher outputs, the GB142 can provide sufficient heating comfort for any type and size of home or small to medium business.
- AFUE efficiency rating of 95%
- ENERGY STAR certified
- Whisper quiet operation
- GB142 Models come with controls and manifold
The GB142's "whisper quiet" modulating operation – with output modulations between 30% and 100% - is matched to actual heat demand to save energy. With an AFUE rating of 95% the GB142 is one of the most efficient condensing boilers on the market today and is ENERGY STAR certified. Purchasing homeowners may qualify for federal, state, local and utility rebates.
With its integral aluminum heat exchanger and large surface area, the GB142
provides reliable condensing operation all year long.

The Buderus GB142 includes advanced and easy-to-control integrated EMS controls for outdoor reset and control of an optional indirect domestic hot water tank. Adding a Buderus hot water tank or additional control is quick and easy. Because it comes with a prefabricated, low-loss header manifold to always ensure proper flow rate through the boiler, installation of the GB142 is one of the fastest in the industry. GB142 models are approved for PVC horizontal and vertical venting.

For complete details on the Buderus family of GB142 models, visit www.buderus.us and click on Gas Heating/Gas Condensing Boilers.
---
New Simplicity® Intelli-Comfort II™ unitary control incorporates variable air volume technology.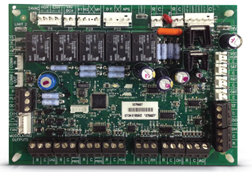 Johnson Controls introduces the Simplicity® Intelli-Comfort II™ unitary control that now incorporates variable air volume (VAV) technology utilizing a variable frequency drive (VFD) and new IntelliSpeed™ multiple speed airflow control technology.

The new Intelli-Comfort II monitors and controls York's 3-12.5 ton Predator™ Packaged Units and 15-25 ton Sunline™ Packaged Units, Coleman's 3-12.5 ton Outfitter™ Packaged Units and 15-25 ton Apex™ Packaged Units, and Luxaire's 3-12.5 ton Ovation™ Packaged Units and 15-25 ton Optimum™ Packaged Units.
The control also provides the following features:

• Factory or field configurable to operate from a field installed thermostat or zone/space sensor.
• Energy savings through the intelligent control of fans, economizer, compressors and other functions.
• Seven-day scheduling, 20-day vacation scheduling and monitoring for predictive maintenance, reducing service calls.
• Optional IntelliSpeed meets ASHRAE 90.1-2010 and Title 24 for reduced supply fan airflow and outdoor requirements.

For more information about York products, visit www.yorkhvacdealer.com.
---