Southeast HVAC News
Cooper&Hunter Becomes an Official Partner of the Florida Panthers..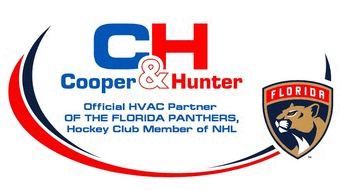 At the start of the 2017-2018 season, fans will see Cooper&Hunter signage throughout the BB&T Center including dasherboards, LED ribbon boards and other in-game features, that will touch hockey fans not only locally, butacross the nation. The sponsorship also includes support of the Florida Panthers home hockey events. The partnership is wasting no time, with the first major activation taking place early 2017-2018 hockey season, presenting a takeover night during the Florida Panthers home game on October 26th.

"By partnering with one of the top hockey teams in the country, we can engage consumers across the United States and extend our brand's awareness while continuing to support the local Florida community. It is a great honor for Cooper&Hunter to support the team, which is going through number of promising transformations with newly joined players and coach on board," said Yanni Angeles, Vice President of Comfortside LLC, exclusive master distributor of Cooper&Hunter HVAC equipment in the USA and Canada.
"After screening the hockey sponsorship opportunities, our choice fell on local Florida team, which is located same state with our office and logistics hub. Florida is one of the biggest markets for air conditioners and Cooper&Hunter is looking for opportunity to create deep emotional connections with the Florida Panthers fans" – she explained the sponsorship decision.
Story continues below ↓
---
advertisement | your ad here
---
"Our partnership with Cooper & Hunter is a natural fit, in that both organizations know a few things about staying cool in Florida," said Panthers President and CEO Matt Caldwell. "We're excited to partner with a South Florida-based company like Cooper & Hunter and look forward to working closely with them for years to come."

Few months earlier, following the successful partnership with Ice Hockey World Championship, Cooper&Hunter had announced that it is looking to expand sponsorship associated with ice hockey. While Cooper&Hunter brand may have a global footprint, its marketing and communication strategies are driven by local needs in each country, state or even county.

Speed and power, reliability and hardiness, ice and coolness, hot emotions and warm atmosphere - all these are common features of Cooper&Hunter brand, its products and ice hockey. This partnership is also a part of SCR activity for Cooper&Hunter in the continuous effort to contribute to the development of sport and promotion of healthy life.

About Cooper&Hunter
For more than 20 years, Cooper&Hunter have offered a full range of air conditioning products to HVAC distributors in more than 30 countries. During last 10 years COOPER&HUNTER equipment has become very popular all over the world. The number of products yielded under the brand C&H (COOPER&HUNTER) is measured in millions of items now and the C&H itself has become a mark of quality and reliability of HVAC equipment. The company's goal has always been to give the customers the best quality air conditioners for an affordable price. Headquartered in Miami, Florida, Comfortside LLC is an exclusive master dealer of Cooper&Hunter in USA and Canada. More information about Cooper&Hunter can be found on corporate website: https://cooperandhunter.us, Facebook and Twitter

About Florida Panthers Hockey Club & BB&T Center
The Florida Panthers are a member of the Atlantic Division of the Eastern Conference of the National Hockey League (NHL) and play at BB&T Center in Sunrise, Florida. The Club has been a part of the NHL since 1993. Home to the Florida Panthers Hockey Club and leading international concerts and events, the Broward County-owned BB&T Center is one of the top ranked venues of its kind in the world, servicing Broward, Collier, Miami Dade, Monroe and Palm Beach Counties. For the latest info about upcoming events, visit www.thebbtcenter.com and follow rel="nofollow">BB&T Center on Twitter, Instagram and Facebook.

###