Southeast HVAC News
Healthy Buildings Education Series Announced.
Creating Healthier Buildings Online Educational Series Announced.
Pure Air Control Services, Inc. to present 4-part webinar program on how to manage risk and ensure occupant safety for buildings in the COVID-19 pandemic.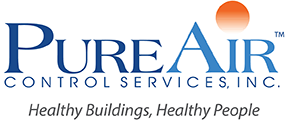 Leading indoor air quality (IAQ) firm remains committed to educating the public about the role building health plays in occupant well-being. Since 1984 Pure Air Control Services, who was recently ranked in both the Business Observer Top 500 and INC. 5000, has conducted environmental investigations and remediation in more than 12,000 buildings across over 700 million square feet. The company has helped both the private and public sector navigate through other recent pandemics such as SARS, MERS and H1N1. Now they bring that expertise to a 4-part free webinar series entitled "Creating Healthier Buildings" beginning Tuesday, September 1, 2020.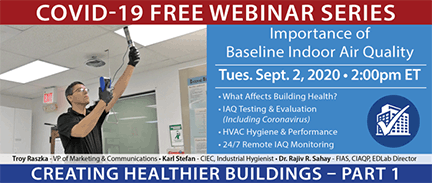 "We are thrilled to be able to share our vast knowledge about how building systems and environmental conditions can either minimize the risk or worsen the spread of pathogens in a building." Says Alan Wozniak, President of Pure Air Control Services, "It has always been our goal to partner with our customers to optimize building health to the benefit of their occupants and bottom line."
The free educational series will focus on a holistic approach to a building's eco-system. It will demonstrate the interconnectivity of the building envelope and its mechanical systems to explain how underlying hygiene and performance conditions can increase the risks to occupant safety. Especially during the COVID-19 pandemic.

Story continues below ↓
---
advertisement | your ad here
---
Webinar Schedule

Part 1: Importance of Baseline IAQ
Tuesday, September 1, 2020, 2:00pm ET
Understanding the baseline indoor air quality and performance of a building is the foundation to optimizing its health. It is critical to risk management, problem solving and corrective action. During this ongoing COVID-19 pandemic it is especially important to know how underlying IAQ affects the transmission and longevity of the virus. This webinar looks at how IAQ Testing and Evaluation is the cornerstone of occupant well-being.

Part 2: HVAC Is Critical to Building Health
Tuesday, September 15, 2020, 2:00pm ET
The HVAC system is the single most vital element of building health. Especially with the transmission of COVID-19 being airborne. Simply put, HVAC is the lungs and respiratory system of a building. Taking a breath (changing the air) 4-8 times an hour. This webinar discusses how HVAC cleanliness affects the proliferation of indoor contaminants and energy efficiency, as well as highly effective methods for system cleaning and restoration.

Part 3: Elevating Building Disinfection
Tuesday, September 29, 2020, 2:00pm ET
Building disinfection and sanitization plays a key role in occupant safety during the COVID-19 pandemic. But what methods are most effective and efficient? While decontamination of the ambient occupied space is critical, what about other areas that influence the spread of contaminants? This webinar provides insights into total building disinfection including the air conveyance system, as well as methods and equipment used for different situations with a particular focus on the efficacy of electrostatic spray disinfection.

Part 4: Engineering a Self-Healing Building
Tuesday, October 13, 2020, 2:00pm ET
Air purification and other systems for the continuous maintenance of the indoor environment have been a hot commodity during the COVID-19 pandemic. However, not all technology or equipment are created equal. What are the differences and efficacies of air purifiers, bipolar ionizers, filtration and UV? How effective can they be if nothing is being done to address underlying IAQ issues? The final session of the healthy buildings webinar Series deep dives into the engineered solutions that work together to keep baseline IAQ optimal.

Each session will run approximately 30-40 minutes with time allotted for questions and answers. Handouts will also be provided, as well as a video replay link to those who signed up.

Calendar & Sign Up Links

Pure Air Control Services Calendar: https://pureaircontrols.com/calendar/

Part 1: Importance of Baseline IAQ Sign Up: https://pureaircontrols.com/events/importance-of-baseline-iaq-free-webinar/
About Pure Air Control Services, Inc.
Pure Air Control Services is committed to excellence in all aspects of Indoor Air Quality. Since 1984 they have endeavored to improve the health, comfort and energy efficiency of their clients' buildings to the benefits of occupant well-being and the operational bottom line. The company's fundamental purpose is to provide professional environmental consulting, engineering and evaluation through building diagnostic protocols, laboratory support services and building/HVAC system remediation services. The company's three specialized divisions include Building Sciences, Environmental Diagnostics Laboratory, and Building Remediation Sciences. They offer precise building health assessments as well as innovative services for the hygienic cleaning/restoration of HVAC systems and indoor environments.

###