Southeast HVAC News
ASHRAE Concludes Successful 2023 Annual Conference in Tampa.
The 2023 ASHRAE Annual Conference, held in Tampa, Florida, concluded on June 28 with resounding success.
The event brought together industry leaders, researchers and professionals in the heating, ventilation, air conditioning and refrigeration (HVAC&R) industry to exchange knowledge, explore advancements, and foster collaboration. More than 2,050 HVACR industry professionals attended the five-day conference and committee meetings.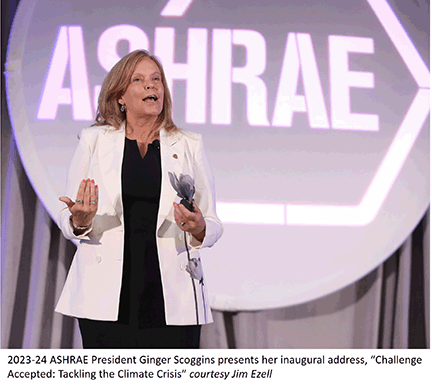 Ginger Scoggins, P.E., Fellow ASHRAE, took office as the 2023-24 ASHRAE President. During her inaugural address as president, Scoggins introduced ASHRAE's new Society Year theme, "Challenge Accepted: Tackling the Climate Crisis." She highlighted the climate change migration that has taken place globally in the past 50 years and spoke about ASHRAE's commitment to providing resources and thought leadership in global building decarbonization.

"We have worked to integrate a carbon-reduction focus throughout our ASHRAE committees, councils, and leadership and provide our industry with a clear indication of our commitment to this issue," said Scoggins. "We have several other initiatives underway, with a plan for their completion during this society year. ASHRAE has accepted the challenge of our time…and we need you to join us."

Scoggins' presidential address manuscript and presentation can be found at ashrae.org/president.

ASHRAE also announced the approval of its much anticipated pathogen mitigation standard, ASHRAE Standard 241, Control of Infectious Aerosols. This groundbreaking standard is a major step forward in reducing the risk of infectious disease spread in buildings. Standard 241 is available for presale now.

During the President's Luncheon, ASHRAE presented a special Presidential Certificate of Honor to former White House COVID-19 Response Coordinator Dr. Ashish Jha for his advocacy during the pandemic that led to greater White House indoor air quality investments including the release of a National COVID-19 Preparedness Plan and the Clean Air in Buildings Challenge. In his acceptance speech, Dr. Jha praised ASHRAE's leadership through the development of Standard 241 to improve indoor air quality as a critical public health intervention in controlling the spread of infectious disease.
Story continues below ↓
---
advertisement | your ad here
---
"This effort to try to improve indoor air quality and reduce the burden of respiratory pathogens is something we have talked about at the White House – a lot of experts have been talking about it," said Jha. "Talking is important, but what ASHRAE did over the last six months in building out Standard 241, that just got approved, fundamentally changes the game. It is one of the most important public health interventions I have seen in years, if not decades. It is really heartening to see this organization take a central role in tackling the biggest challenges facing human health in the U.S. and around the world."

During the plenary session, Jeff Littleton, ASHRAE Executive Vice President and Secretary, reported on the Society's current initiatives and in his farewell address, outgoing 2022-23 ASHRAE President Farooq Mehboob reflected on his presidential year and the accomplishments realized through the 2022-23 Society theme, "Securing Our Future."

"In my inaugural presidential address, I spoke about the era of unpredictability that we are facing," said Mehboob. "I reminded you that the future does not belong to those who sit and watch, but instead we must seek it create it and secure it. I have been amazed by the dedication of our volunteers and staff who have tirelessly worked to move our society forward and secure its future."

In addition to tours, award recognitions and social events, the conference featured 90 sessions, covering a wide spectrum of topics including energy-efficient design strategies, renewable technologies and building decarbonization. The top technical session was the ASHRAE Building Decarbonization Update.

ASHRAE Learning Institute (ALI) offered ten courses. New courses were as follows: V in HVAC – Efficiently Improving IAQ using the Ventilation Rate Procedures (Using Advanced Options for Standard 62.1-2022), Introduction to Building Decarbonization, Starting the Path to Net Zero Buildings Using ASHRAE 90.1-2022 and Fundamentals of Decarbonization Design Systems and Equipment Applications.

The 2024 ASHRAE Winter Conference will take place January 20-24 and the AHR Expo, January 22-24 in Chicago, Illinois.

###