Southeast HVAC News
WHVACR 20th Annual Conference: "Go Bold"!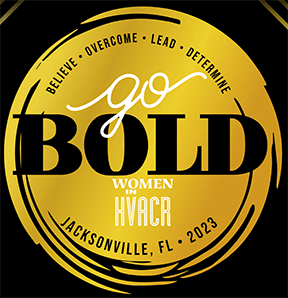 Don't miss the Women in HVACR 20th Annual Conference!
Come and "Go Bold" in Jacksonville, FL!
Join us for this exciting event as you reconnect with old friends and network with other woman leaders in the HVACR industry.

Why Attend?

We are a national organization of women throughout the HVACR industry. This event offers exceptional opportunities to grow your network and gain knowledge about the industry.

Who attends?

Field technicians. Contractors. Distributors. Suppliers. Service providers. Manufacturers. Educators. Anyone and everyone in the HVACR industry!

Schedule at a Glance
Day 1 - Monday 11/6
Optional Welcome Activity - 1:00 PM-4:00 PM
First Timers Meeting - 4:30 PM
Welcome Reception - 5:00 PM - 7:00 PM
Day 2 - Tuesday 11/7
Sunrise Yoga - 6:00 AM
Conference Start - 8:00 AM
Conference End - 5:00 PM
Gala Dinner - 6:30 PM
Day 3 - Wednesday 11/8
Sunrise Walk - 7:00 AM
Conference Start - 8:00 AM
Conference Close - 12:00 PM
Optional Excursion Field Trip to St. Augustine - 1:00 - 9:00 PM
.
Story continues below ↓
---
advertisement | your ad here
---
WHEN: November 6, 2023 @ 1:00 pm – 7:00 pm
WHERE: Jacksonville
225 E. Coastline Dr Jacksonville
FL 32202

Venue:
Hyatt Regency Jacksonville Riverfront
225 E. Coastline Dr
Jacksonville, FL 32202
Ph: 904.588.1234

Venue website:

Event website:
###